If you enjoy the earthy spoor of rich mushroom gravy or the piquant kick of a spicy pepper sauce, smeared lovingly over your entrecote, chateaubriand or cote de boeuf, for a suitable wine accompaniment I suggest you momentarily abandon Bordeaux and instead head east, east to the home of the Avignon Popes.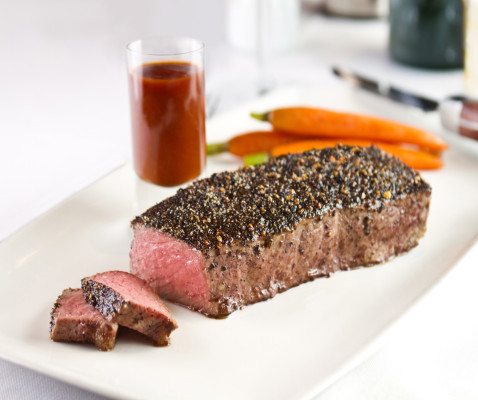 Chateauneuf du Pape sits in the closed valley of the Southern Rhone and here you will find the most magnificent, richly flavoured, full bodied, complex wines with earthy, spicy aromas and flavours just perfect to pair with all things beef.
The region is famous for its rocky vineyards, full of large quartzite pebbles known as 'galets', worn smooth over millennia as part of an ancient river bed. These pebbles trap daytime heat and release it at night, allowing for even and optimal ripening of the fruit.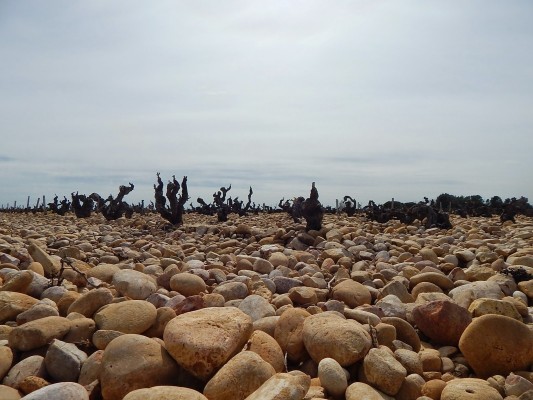 It is common to grow the vines as goblets (bush vines), and this is the only vine training system allowed for the first four red varieties. Yields are restricted to just two tons per acre to ensure concentration of flavours and good quality fruit for winemaking. Whilst the appellation does produce very good and very interesting white wines it is for its exotic, full bodied reds that it is best known.
In all, thirteen different grape varieties are permitted in the production of Chateauneuf du Pape however; Grenache, Syrah and Mourvedre are the most commonly used grape varieties and make up the bulk of most blends. These three varieties account for almost 90% of plantings in the region, with Grenache nearly 75% of the total area under vine.
Both red and white varieties are allowed in both red and white Châteauneuf-du-Pape. There are no restrictions on proportions and varieties are not differentiated into principal varieties and accessory varieties. It is therefore theoretically possible to produce varietal Châteauneuf-du-Pape from any or all of the eighteen allowed varieties. In reality, most Châteauneuf-du-Pape wines are blends dominated by Grenache.
White wines from the region are usually blends, predominantly of Grenache Blanc and Roussanne, some 100% varietal Roussanne wines are also made. Most are made for early consumption with a select few built to age. The wines are richly flavours, medium to fuller bodied whites, almond, marzipan, honey, orange peel and Turkish delight are common characters in the whites of Chateauneuf du Pape.
The best reds in the region are famously long lived, full bodied, rich, complex and powerful. Ripe plum, crushed, concentrated raspberry and red fruits are wrapped in firm tannins and overlaid with briary notes, herbs, violets, spices, game, tar, molasses, prune, olive and wild, gamey notes all combine on the bouquet and the palate. Whilst no longer cheap, Chateauneuf du Pape's best wines represent exceptional value given their quality, especially in comparison to Bordeaux and Burgundy.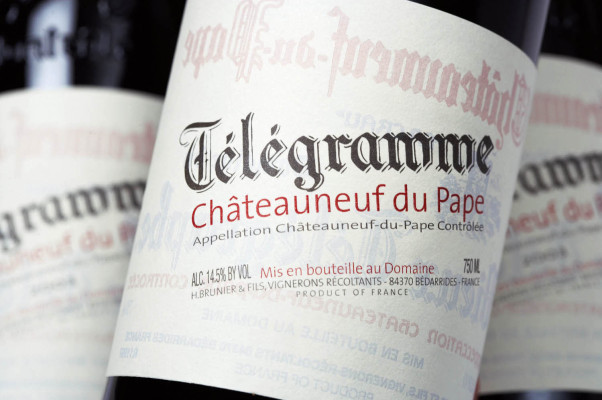 The region's must try wines are produced by Vieux Telegraphe, Chateau Beaucastel and Chateau Rayas, all are well worth the trouble to seek out and the coin to try them.
Domaine Vieux Télégraphe takes its name from and old telegraph station that once stood on the very same hill where the winery was established. The first vines were planted by Hippolyte Brunier in 1898, who established a vineyard in the legendary La Crau, lieu-dit in the south eastern pocket of the Chateauneuf du Pape region. Le Crau is the most famous lieu-dit in the region, rich in galets and organic matter the site has been renowned for its fruit for at least 600 years. The Bruniers have been taking care of Vieux Telegraphe for over a century and their red wine, Domaine Vieux Telegraphe, is incredibly rich and complex, it has enormous ageing potential and is rightly regarded as one of the world's great red wines.
Since 2002 they have released a second label 'Telegramme', which offers remarkable quality and value and can hardly be considered a second or lesser wine and more another personality and vinous expression from these masters of the Le Crau. As I lingered over a superb Cote du Boeuf at Armand's Bistro the other evening, I was more than happy to order a second bottle, encore.
The 2013 Telegramme is medium bodied and still young, as it opened it revealed itself to be plump, juicy and attractive with anise, mixed peel, violet and fruit mince and pepper aromas leading to rich plum, raspberry and cherry fruit. The wine is well-rounded with fine, ripe tannins.  A very enjoyable and easy wine to drink it is a superb accompaniment to fine beef steak or rich beef casseroles.