The end of Cambodia's most pleasant of weather seasons has arrived; the 'Windy Season', ( as it is known locally) is a delightful time of year where the day temperatures are relatively mild, evening temperatures can be downright cool and most days are brushed by a gentle and refreshing breeze. Once again, all too quickly, it is over for another year.
Now, we enter the first few weeks of the 'Hot' season, long days and nights of scorching, dry heat that will gradually build in their intensity (and humidity), until we are into the steaming, soupy last-passage before the monsoon finally breaks. Already, just thinking about it, I need a drink!
In this haze of heat, choking dust, sweat and shimmering, uncertain horizons, I need something cool, more than cool, chilled, icy, I need clarity.
I need a wine that is crisp, dry, refreshing and light; not sickly sweet and cloying like the pungent steam bath that passes for air during the build up to the monsoon ahead. Not a big, heavy wine that sits me on my ass and requires I take a nap through the afternoon only to wake at dusk in a pool of my own sweat and drool, trying to clear the funk and wondering if I have acute dengue or have I've actually had a stroke. I need a wine that is piercingly sharp and invigorating, that can scythe through the chimera to reawaken neural cells and revive failing organs.
It is time for the reviving powers of aroma therapy.

Now I am not talking about the kind of experience where you are locked in a room with the air-conditioning turned to minus 11 then wrapped in a straitjacket, pelted with rocks and beaten up by people with soft hands and sharp elbows – amidst smells that remind you of the things your grandmother used to spray and wipe her toilet with after your grandfather had spent the best part of the entire morning in there!
I am talking here about the restorative powers of Aromatic wines, with their perfumes of alpine flower fields in spring and their cleansing minerality -like the spas of Lourdes, served as cold as drops of glacier water collected from the Vatnajökull in Iceland.
Wines that fall into the style or class known as 'Aromatic Wines' are absolutely perfect for this time of year, they are light bodied white wines that have a high perfume and are usually crisp and dry with good acidity and a freshness to them. Usually fermented in stainless steel these are wines that are all about capturing the delicate, fresh aromas and flavours from the vineyard into the bottle. Best of all, they can be served icy cold without masking too much of their subtle charm and refined character.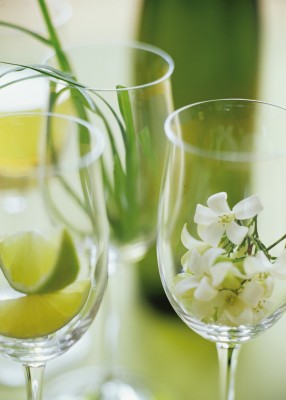 Popular Aromatic Wine styles:
Riesling, Pinot Gris, Gewurztraminer from Alsace, France
Riesling from Germany and Australia
Sauvignon Blanc from New Zealand
Sauvignon Blanc from Sancerre, Pouilly Fume, Sauvignon Saint Bris in France
Grüner Veltliner from Austria
Viognier from the Rhone valley in France and from Chile
Torrontes from Argentina
Albarino from Spain or Portugal